Placon, founded in 1966, continues to thrive with the same modest Midwestern values of its founder Tom Mohs. Tom's early entrepreneurial spirit still lives on and inspires the heart and mind of the engineer in all of us.
In the Beginning: A dream, determination and a basement.
After a 4-year plastics R&D career in Hartford, CT, Tom returned to his hometown of Madison, WI. Inspired by the technology he learned from his time in Hartford, Tom built a small thermoforming machine in his basement and began making plastic jewelry boxes. While this product line was not enough to support a business, it launched Tom's dream of owning and operating a plastics packaging company. In three short years, orders from local cheese companies started rolling in and the company was starting to expand quickly. Plastics thermoforming was still in its infancy, but customers were learning that Placon's engineering and packaging design solutions were well beyond what other companies were capable of doing.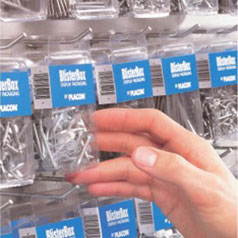 Placon was exclusively a custom thermoformer; however, in 1980, Mohs was asked to design a small retail package so a large US retailer could merchandise a wide assortment of fasteners on peg hooks. Using many of the same elements from his initial jewelry box, Tom added a living hinge to create a sleek, single piece container with a hang hole for a peg hook. Placon patented the design and the first retail clamshell was invented. Trademarked "BlisterBox," this high visibility package became an industry standard.
In the early 1990's, the world's largest retailer became interested in plastic packaging that was environmentally responsible and asked their fastener suppliers to create plastic packaging from recycled plastic material. To address the challenge, Placon worked with recyclers of plastic soda bottles, while redesigning and retooling thermoforming equipment to produce an alternative to virgin PVC packaging. The idea caught on and, in 1992, Placon began running products in recycled PET (RPET). The following year, Placon was awarded the Wisconsin Governor's Award for Waste Reduction and Recycling, in recognition of Placon's early efforts in environmental stewardship.
An in-line production facility was added in 2001, using machines from Italy to provide closed-loop and continuous production of foodservice products. A state-of-the-art RPET extrusion area was added in 2003, continuing Placon's efforts in sustainability. In 2007, a medical clean room was added to expand the company's capabilities in the medical market.
In 2011, Placon purchased Barger Packaging in Elkhart, Indiana to expand our capabilities into the sterile and non-sterile medical packaging markets. Three years later, Placon broke into the injection molded container industry through the acquisition of Plastic Packaging Corporation in West Springfield, Massachusetts. In 2016, Placon acquired Brookdale Plastics in Plymouth, Minnesota a custom thermoformer for the retail and medical markets. In 2021, Placon acquired a Sonoco food packaging facility to vastly expand its production capabilities. These additions to the Placon family brought in new people and new opportunities to the Placon brand.
Today: Innovating and Growing
Today, we are continuing to grow and innovate in each of the industries that we service. We have a long list of honors received – including the Ameristar, DuPont, and SPE awards – and continue to work constantly on creating packaging that maximizes convenience and encourages greater engagement between products and people. We now employ over 500 people across four locations and ranked in the top #20 in based on sales and company size among North American thermoforming companies (according to Plastics News).
A Proud Legacy
Tom Mohs' innovative designs focus on the customer, attention to safety, quality and sustainability – all have been built into the Placon legacy. Integrity, respect, environmental stewardship, community involvement, superior service, innovative products – Tom's entrepreneurial spirit and Midwestern values continue to guide the company and inspire the future.
Our Green Story
Despite our previous strides taken towards sustainability, Placon was not creating a high enough quantity of recycled material to keep up with demand, so a worldwide search to find the right technology to internally process plastic from curbside-collected recycled post-consumer PET began. In 2011, Placon built a recycling and extrusion operation with machines from Austria and Italy. This facility, named "EcoStar®", covered about 70,000 square feet right next door to Placon's corporate headquarters in Fitchburg, Wisconsin. This facility was originally intended to be a separate company, which would be known for the extrusion of sale of high quality, post-consumer RPET roll stock material for outside thermoforming applications. However, as the business grew, Placon decided to use all of the extruded RPET material made at the EcoStar facility internally across food, retail and non-sterile medical PET packaging. The facility has grown so much that we are now recycling over one billion PET bottles and thermoforms per year.
It was through the switch from virgin to recycled PET for most of our products that we began to fulfill the "closed loop vision" originally held by our founder, Tom Mohs. Tom was a believer in the idea that, one day, Placon could thermoform its packaging products from recycled PET materials, rather than using up natural resources by thermoforming from virgin materials. Placon continues to support this ambitious vision today, and we are always working to find ways to decrease our carbon footprint. From the RPET used in our stock packaging to the custom option for bioPET material made from renewable resources, our remarkable sustainability is the most prominent in the industry.
For More Articles About Placon:
Wisconsin Plastics Industry Has Roots in Modest, Multitalented UW-Madison Professor, University of Wisconsin-Madison–July 2014