Environmental Savings Calculator
January 19, 2023

How to Track Your Impact
By Catherine Haub
As sustainability is becoming more of a factor when it comes to purchasing an item, it is important to know what impact your product has on the environment as a study shows that 78% of consumers are more likely to purchase a product that is labeled as environmentally friendly [1]. With the growing problem of greenwashing, it is key to back claims up with evidence to show that what is being said is the truth. There are many different ways to show environmental stewardship, such as achieving carbon neutrality or zero net waste. One way that Placon helps our customers track their impact on the environment is with our Environmental Savings Calculator.
So how exactly does the Environmental Savings Calculator work? To share what impact our customers are making by choosing us, we show them several different statistics with the help of the EPA greenhouse gas data converter. With this tool, we can show our customers their greenhouse gas emission savings, water bottles diverted from landfills, US homes powered, and the number of cars off the road. Customers can also see how many bottles are reclaimed per unit and per case when they click on an item on our website. We can calculate this with the help of the Environmental Savings Calculator!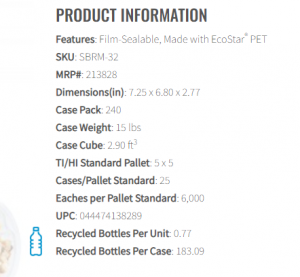 But why is this important? As stated previously, consumers want to know that the products they're buying are environmentally friendly and are more likely to buy a product labeled that way. With this, though, greenwashing has become an issue as companies are making claims about their product's environmental impact that aren't true. By using the Environmental Savings Calculator, we can give our customers facts to back up their claims to avoid greenwashing and show what impact they're making by choosing us. We know how important it is to be transparent about environmental impact, which is why we want to help our customers in any way we can.
To find out more or to calculate your savings, reach out to your Placon sales representative to learn more and get your numbers!
Here is the link to our Environmental Savings Calculator to check your impact:
https://placoncorp.sharepoint.com/:x:/s/PlaconMarketing/EVEgEzduAQVFvxgeYJguZcgBCQwhUbYavYS58Rr_Dr60pA?e=GbZNnF 
[1] Consumers prefer eco-friendly products, but don't know how to identify them – Agility PR Solutions
ABOUT PLACON
For 55 years, Placon has been a leading designer and manufacturer of custom and stock plastic packaging for the food, medical, and retail markets. Placon has manufacturing operations in Madison, WI; Elkhart, IN; Plymouth, MN; and West Springfield, MA, and currently ranked in Plastics News 2020 Thermoformers Ranking Top 20. Placon delivers packaging breakthroughs that inspire better engagement between people and products with industry leading innovation and award-winning packaging designs. For more information, visit www.placon.com.