Manufacturing PCR
November 3, 2022

How we turn old into new!
By Catherine Haub
What happens to the plastic water bottles after you throw them in the recycling? Many know the basics: it gets picked up and turned into new items, but how exactly does that work? How do we turn trash and undesirable into something new? In this post, we'll take you through how we process old PET thermoforms and bottles to new packaging that is safe for food and retail products!
Post-consumer recycled material, commonly known as PCR, contains recycled content that came from consumers, including any paper, plastic, aluminum, and glass you throw in your recycling bin. By utilizing recycled materials, we don't have to use more resources to make new products, benefitting the environment. Post-consumer can get easily confused with post-industrial, but the big difference is that post-industrial never left the facility while post-consumer made it to the consumer. At Placon, any products with EcoStar material contain post-consumer recycled content.
The process of going from old to new starts with the consumer who discards the PET thermoform or bottle into a recycling bin. Those get taken to a facility and are separated from other recyclables. We are lucky enough to have an in-house recycling facility at our headquarters in Madison, Wisconsin. Once the bales arrive at our facility, they get broken up with a bale breaker into each item. Those items then go through a prewash where steam and a solution clean off labels and dirt from the PET. The contents from the bales then go through an automatic bottle sorting system where the non-PET and colored bottles are separated from the PET. The system has cameras and sensors to detect these items, and a blast of air will remove the items we don't want from the PET. The materials then go through a manual sorting, where people pick out any leftover items in the stream that the automatic sorters did not pick up. The next step in the process is grinding the PET thermoforms and bottles.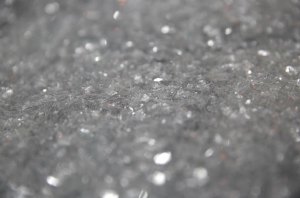 After grinding, the flake goes through another wash to ensure that our products are safe for direct food contact. The flake then goes through another separation process to remove all the caps and rings that were attached to the bottle during grinding. To do this, all the pellets go into a water tank where the PET sinks to the bottom, and the grounded caps and rings float to the top, making it easier to remove. The flake is dried, tested for quality, and bagged in super sacks. Now it is ready to be extruded into roll stock that has a quality equivalent to virgin material that can be used in food and retail packaging!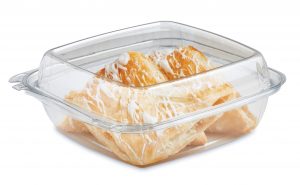 Here is one of our tamper-evident salad bowls, which contains post-consumer recycled material. At Placon, we work to make our packaging as sustainable as possible to help customers achieve their sustainability goals.
ABOUT PLACON
For 55 years, Placon has been a leading designer and manufacturer of custom and stock plastic packaging for the food, medical, and retail markets. Placon has manufacturing operations in Madison, WI; Elkhart, IN; Plymouth, MN; and West Springfield, MA, and currently ranked in Plastics News 2020 Thermoformers Ranking Top 20. Placon delivers packaging breakthroughs that inspire better engagement between people and products with industry leading innovation and award-winning packaging designs. For more information, visit www.placon.com.