Are You Ready For New State Recycling Mandates?
July 7, 2022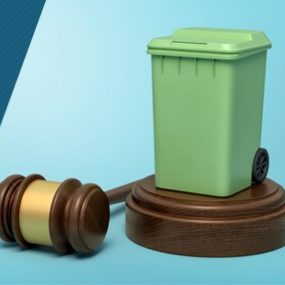 How Will New Laws Affect The World Of Plastic?
By Catherine Haub
Post-consumer recycled, also known as PCR, plastic is important in areas other than just packaging. Due to its importance in sustainability and how beneficial it is to our environment, it's no surprise that it has been brought up by lawmakers. Throughout the past two years, many more bills across the US relating to recycled content have been proposed [1]. California started this trend in 2020 which requires drink bottles to contain 15% PCR by 2022, 25% by 2025, and 50% by 2030 [2]. The goal of this is to limit the amount of virgin material that is being used to create plastic bottles, using less petroleum to create new plastic.
Since then, other states have used the laws as a model for their own, such as New Jersey, Washington, Connecticut, Maine, and 10 Northeastern states which created the Northeast Recycling Council (NERC). It's only a matter of time until other states begin creating their own laws like the California one to promote recycling and the use of PCR plastic. There are no federal regulations yet, but the Break Free from Plastic Pollution Act, if passed, would have a target of 25% PCR by 2025 and 80% by 2040 [3].
While some states are passing laws about the amount of PCR required in plastic, other states are passing Extended Producer Responsibility (EPR) laws, which focus on the responsibility of the producer when it comes to the end of life for their products. Companies in these states, such as Maine, Colorado, and Oregon where these laws have been passed, have to work with Producer Responsibility Organizations who collect dues from each company to fund recycling centers throughout the state. While these don't limit packaging options, the harder a material is to recycle the higher the fee will be [4].

Part of the reason many of these new laws have been created is to boost recycling rates across the country. US plastic recycling rates are low, as only 29% of PET bottles and jars were recycled in 2018. [5] In 2018, though 6.3 billion pounds of PET plastic bottles were sold in the US, only 1.8 billion pounds of PET bottles and 0.1 billion pounds of thermoforms were recycled. For being a well-developed nation, those numbers are extremely low [1], so it is understandable why lawmakers are pushing to increase the amount of PCR used over virgin material and placing responsibility on the producers end to make their packaging easier to recycle. To be able to do this, though, facilities need to be made to take in recycled plastic for material to be produced. Placon recognizes this and sets the standard for PCR recycling with a recycling facility right at our head quarters. Since 2011, we have been working with EcoStar to create packaging with PCR to fit the company's sustainability goals and can help many different companies work through these new regulations. With our 75% PCR material, for every 100,000 pounds we are able to eliminate 194,090 pounds of greenhouse gas emissions and save 3,543,687 water bottles. We want to help companies be as sustainable as possible and to fit within these regulations, and will communicate what impact choosing our packaging has on the environment.
To date, Placon has recycled over 4 billion water bottles.
Resources:
[1] 2022 State of Recycling Policy
[2]Now signed into law, Calif. PCR mandate may become a model – Plastics Recycling Update (resource-recycling.com)
[3]Pollution Act | Break Free From Plastic
[4]Extended Producer Responsibility – SPC's Guide (sustainablepackaging.org)
ABOUT PLACON
For 55 years, Placon has been a leading designer and manufacturer of custom and stock plastic packaging for the food, medical, and retail markets. Placon has manufacturing operations in Madison, WI; Elkhart, IN; Plymouth, MN; and West Springfield, MA, and currently ranked in Plastics News 2020 Thermoformers Ranking Top 20. Placon delivers packaging breakthroughs that inspire better engagement between people and products with industry leading innovation and award-winning packaging designs. For more information, visit www.placon.com.