Say Goodbye to Single-Use Plastics
January 12, 2023

Introducing Circular Plastics
By: Catherine Haub
New Year means new terminology! As we move towards the future, some things are better left in the past. The term "single-use plastic" is used broadly to define plastics as a whole, but it sheds a bad light on recyclable plastics! As we move towards a more circular economy, single-use plastics do not fit in since, as the word says, they can only be used a single time. The circular economy principle requires a product to be reusable or recyclable, and single-use plastics do not align. Instead, the focus should be placed on reusable or recyclable plastics, which we call "circular plastics."
When it comes to circular plastics, it is essential to pay attention to which types of plastic are widely recyclable, which are harder to recycle, and which are not recyclable. Widely recyclable plastics include Polyethylene Terephthalate (PET) and High-Density Polyethylene (HDPE), which can be indicated by recycling numbers 1 and 2, respectively. Polypropylene could also be included on this list as it is still widely recycled but not as much as the other two and has the recycling number 5. The different types of plastic are not as widely recycled and, therefore, may not fall under the definition of circular plastics. To make the most significant impact, it is important to remember local regulations and rules for where you live to know what you can and cannot recycle. Reusability also plays a role when it comes to circular plastics. Packaging should be created to be reused multiple times before being disposed of, which can't be done with films and seals. Again, PET, HDPE, and PP are reliable regarding their reusability, such as using PET water bottles multiple times before disposing of them, using milk jugs to carry other liquids, and many take-home containers are made with PP that are useful for food storage.
While removing single-use plastics is essential, they need to be replaced with a sustainable option. Many different produce items are packaged in films or flimsy packaging that would typically not fall under the circular plastics definition. For example, many salad kits in grocery stores have their ingredients individually packaged in pouches that are unrecyclable. Circular packaging should consider materials such as PET that can still perform the same function while falling under the definition of circular plastic.
At Placon, we ensure that our packaging is made with circular plastics to help our customers achieve circularity. Returning to the salad kits, we devised a solution that keeps ingredients fresh and sustainable with our Tamper Evident Salad bowls and inserts. These salad bowls do the same job as the individual flimsy packaging, but sustainably are much better for the Earth. They're not only recyclable but are made with recycled material, further enhancing their circularity. Our Tamper-Evident Salad Bowls are just one example of we work to design and engineer circular plastic packaging.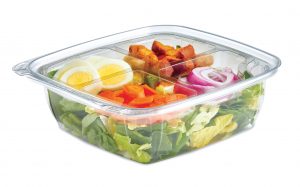 ABOUT PLACON
For 55 years, Placon has been a leading designer and manufacturer of custom and stock plastic packaging for the food, medical, and retail markets. Placon has manufacturing operations in Madison, WI; Elkhart, IN; Plymouth, MN; and West Springfield, MA, and currently ranked in Plastics News 2020 Thermoformers Ranking Top 20. Placon delivers packaging breakthroughs that inspire better engagement between people and products with industry leading innovation and award-winning packaging designs. For more information, visit www.placon.com.