PLACON NEWS
Upcoming Events
Feb 6, 2024
May 14, 2024
Jun 9, 2024
Oct 8, 2024
View all Events
In Memoriam: Plastic Packaging Industry Pioneer and Placon Founder, Tom Mohs, Dies at 77
April 29, 2016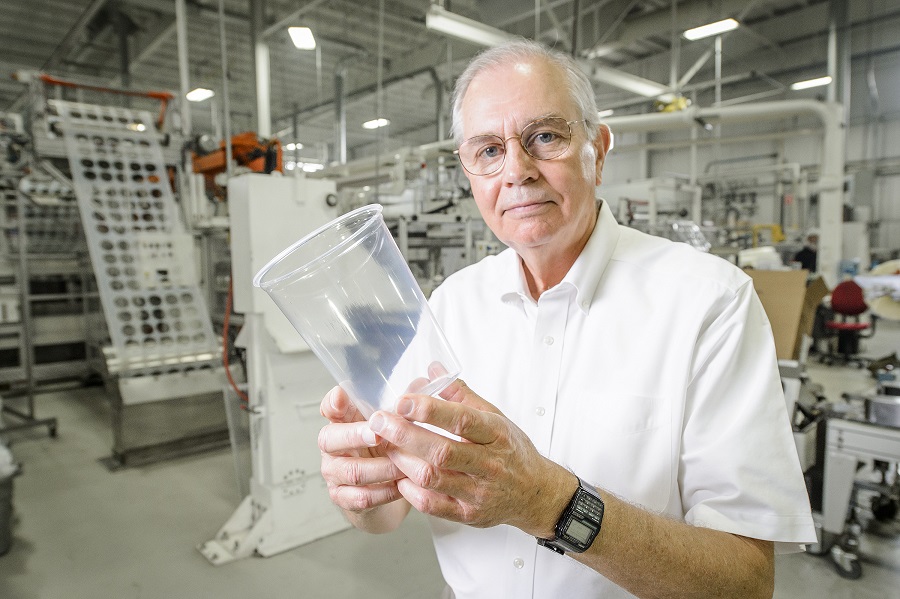 Tom Mohs Helped Shape the Plastic Thermoform Packaging Industry in the US
MADISON, WI (April 29, 2016) – Placon, a North American designer and manufacturer of thermoformed and injection molded plastic packaging products mourns the loss of Founder and Chairman Tom Mohs, 77, weeks before the company celebrates its 50th anniversary. The company that began in a basement by a pioneering young engineer is today a prosperous, growing company with annual sales topping $150 million.
The company began its path when Tom, in 1966, built a small thermoforming machine in his home workshop and began making plastic jewelry boxes. Within three years, Tom was receiving orders from local cheese companies and began to expand the company's operations. Although plastics thermoforming was still in its infancy, the company started earning business due to its innovative engineering and package design capabilities.
Placon was exclusively a custom thermoformer; however, in 1980, the company was asked to design a small retail package for a large US retailer in order to merchandise an assortment of fasteners on peg hooks. Using the jewelry box concept, Tom added a hinge to create a single piece container with a hang-hole for a peg hook. Placon patented the design for the first retail clamshell package created in the US. Trademarked "BlisterBox," the container became well-known in the industry and is still a core product line for Placon to this day.
In the early 1990's, the world's largest retailer asked Placon and other fastener suppliers to use recycled plastic material in its packaging. A true believer in finding ways to cut waste, Tom worked with recyclers of plastic soda bottles, while redesigning and retooling thermoforming equipment to produce an alternative to virgin PVC (polyvinyl chloride) packaging. Two years later Placon began running products in recycled PET (polyethylene terephthalate). The following year, Placon was awarded the Wisconsin Governor's Award for Waste Reduction and Recycling in recognition for its early efforts in environmental stewardship.
Continuing Tom's pursuit of being environmentally responsible, an in-line production facility was added in 2001, to provide closed-loop, continuous production of its foodservice products. In 2003, a new, recycled PET (rPET) plastic extrusion facility was added requiring a supply of high quality recycled material. Placon's recycling and extrusion operation was completed in 2011, allowing the company to control the recycled content and quality of its EcoStar®-branded plastic sheet made with curbside-collected post-consumer rPET from bottles and thermoforms. This decision has allowed the company to keep over 1 billion plastic water and soda bottles out of landfills annually.
During this time, Placon continued to expand its medical packaging capabilities, building an ISO 8 clean room in 2007 at its Madison headquarters. In 2011, the company purchased Barger Packaging in Elkhart, IN, with merged capabilities creating one of the largest medical device thermoformed packaging companies in North America.
Placon went on to acquire Plastic Packaging Corporation in West Springfield, MA in 2014, adding injection molding capabilities to its food packaging lines while achieving SQF (Safe Quality Food) certification at the facility in 2015. Throughout its history, Placon has been the recipient of numerous packaging design and supplier quality awards; in the last four years alone, Placon has received five AmeriStar and 1 DuPont award for its unique packaging designs.
Today, with Dan Mohs (Tom's son) at the helm, Placon remains a family-owned business with over 500 employees. Plastics News currently ranks Placon as #17 in sales among North American thermoformers.
"My father's innovative designs, focus on the customer, attention to safety, quality and sustainability – all have been built into the company's legacy," states Dan Mohs. "His entrepreneurial spirit and Midwestern values will continue to guide us every day while inspiring our future."
Tom Mohs actively served as Chairman on Placon's Board of Directors until his death. He was known in the industry as being a pioneer of thermoformed packaging design, tooling and manufacturing and as a staunch proponent of plastics recycling and reuse. The company's "50 Years of Innovation: Celebrating Our Legacy, Inspiring Our Future" celebration to honor Tom's legacy will be held in each of its locations on May 12.
ABOUT PLACON
For 55 years, Placon has been a leading designer and manufacturer of custom and stock plastic packaging for the food, medical, and retail markets. Placon has manufacturing operations in Madison, WI; Elkhart, IN; Plymouth, MN; and West Springfield, MA, and currently ranked in Plastics News 2020 Thermoformers Ranking Top 20. Placon delivers packaging breakthroughs that inspire better engagement between people and products with industry leading innovation and award-winning packaging designs. For more information, visit www.placon.com.