Justin's Dips into the Snacking Category with New Product Innovation: Snack Pack
July 13, 2015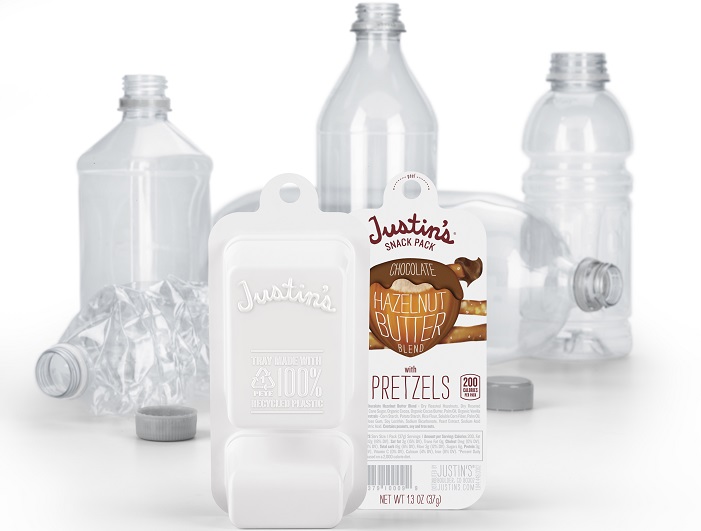 Boulder, CO. (July 13, 2015) – Justin's, maker of naturally delicious, high-quality nut butters and organic peanut butter cups, today announced the launch of its Snack Pack product line. Packed in 100 percent recycled plastic, this new addition comes in three delicious nut butter and pretzel combinations and delivers the great taste and high-quality ingredients one would expect from the brand.
"In addition to great tasting, better-for-you products, it has always been a passion of mine to be better to the earth, and create sustainable packaging for all of our products," said Justin Gold, founder of Justin's. "With their ability to innovate our all-new, earth-smart Snack Pack trays entirely out of the 36 million pounds of post-consumer PET plastics that would otherwise end up in the trash every year, Placon has allowed us to feel as good about the quality of our package as we do the product inside."
One side Justin's nut butter, one side gluten-free pretzels, this convenient, all-in-one snack is designed to stand-up on its own, but is also peggable, providing retailers multiple options for merchandising. The only better-for-you snack pack on the market today without any hydrogenated oils, the Snack Pack is available in three varieties – Chocolate Hazelnut Butter and Pretzels; Classic Almond Butter and Pretzels; Maple Almond Butter and Pretzels.
"Snacking on-the-go can often mean sacrificing nutrition for convenience, or sacrificing taste for health. We knew we could put our minds (and our nut butter dipping mechanisms) together to find a better-for-you solution that is fun and exciting," said Gold. "These Snack Packs pair our popular nut butters with delicious, lightly salted pretzel sticks to create a one-of-a-kind, protein-packed snack that will make your taste buds sing."
Justin's all new Snack Packs are a part of the Made to Matter – Handpicked by Target™ product collection, and are exclusively available at Target stores nationwide beginning in July 2015 for an SRP of $1.99.
About Justin's
Justin's makes naturally delicious, high-quality nut butters and peanut butter cups that deliver great taste, unique texture and convenient nutrition. Established in 2004 in the home kitchen of health enthusiast Justin Gold, Justin's supports an on-the-go lifestyle and was the first nut butter brand to market nut butters in single-serve squeeze packs. Justin's peanut butter cups are USDA-certified organic and are made with Rainforest Alliance Certified cocoa. The nut butters are finely crafted with Justin's one-of-a-kind grinding process to create an exceptional texture and flavor experience. All seven varieties offer a fiber-rich source of protein perfect for snacking anytime of the day. For more information, please visit Justin's at justins.com, www.facebook.com/JustinsNutButter and www.twitter.com/Justins.
About Made to Matter
Made to Matter – Handpicked by Target™ is a product collection of leading natural, organic and sustainable brands. At the heart of Made to Matter is an assortment of great products made with simple, recognizable ingredients that are designed to be better for everyone and accessible to anyone. For additional information about the Made to Matter – Handpicked by Target™ product collection, please visit www.target.com/madetomatter.
ABOUT PLACON
For 55 years, Placon has been a leading designer and manufacturer of custom and stock plastic packaging for the food, medical, and retail markets. Placon has manufacturing operations in Madison, WI; Elkhart, IN; Plymouth, MN; and West Springfield, MA, and currently ranked in Plastics News 2020 Thermoformers Ranking Top 20. Placon delivers packaging breakthroughs that inspire better engagement between people and products with industry leading innovation and award-winning packaging designs. For more information, visit www.placon.com.