New 4-Compartment Base Joins GoCube™ product line
October 10, 2017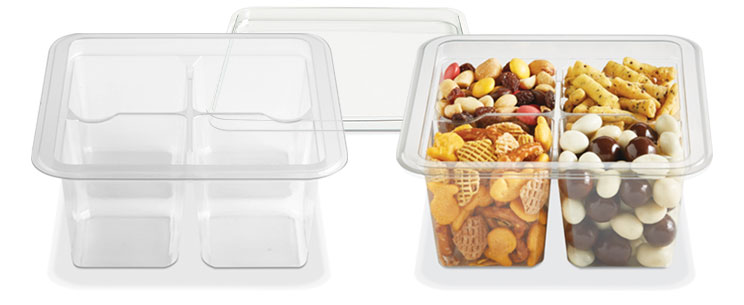 Better packaging means a better experience with Placon's latest addition to GoCubes stock food packaging line
Placon, a leading North American plastic packaging designer and manufacturer, launched a new product as part of its popular Fresh n' Clear GoCubes™ stock food packaging line. The new 4-compartment, 24-ounce base, joins the already established product line, which launched in 2015, bringing style, versatility, and sustainability to a classic square container.
Meeting the growing demand for compartmental packaging, the new GoCube base offers even more merchandising opportunities for convenient, grab-and-go snacking options. According to The Hartman Group's, The Future of Snacking 2016 Report, 91% of consumers snack multiple times throughout the day and view snacking is essential to daily nutrition. Packaging with multiple compartments ensures ingredients are safely kept separate with consistent portion sizing, separating and highlighting specific ingredients while keeping food looking better and tasting fresher for longer.
Available now in six ultra-sleek base sizes from 12 to 36 ounces, GoCubes work with a one-size fits all recycled PET lid option with secure seals, easy open tabs, and crystal clear anti-fog technology. Three insert trays can be used to mix and match are also available. Made with EcoStar® recycled PET material from curbside plastic bottles, GoCubes are reusable and recyclable.
"At Placon, we continue to grow our product lines to meet customer needs and industry trends. It is important to stay relevant, while providing innovative solutions for the end-user," said Ben Brummerhop, Placon's Stock Food Sales Manager.
ABOUT PLACON
For 55 years, Placon has been a leading designer and manufacturer of custom and stock plastic packaging for the food, medical, and retail markets. Placon has manufacturing operations in Madison, WI; Elkhart, IN; Plymouth, MN; and West Springfield, MA, and currently ranked in Plastics News 2020 Thermoformers Ranking Top 20. Placon delivers packaging breakthroughs that inspire better engagement between people and products with industry leading innovation and award-winning packaging designs. For more information, visit www.placon.com.