New Fresh 'n Clear SnackCube™ Packaging Line
July 26, 2018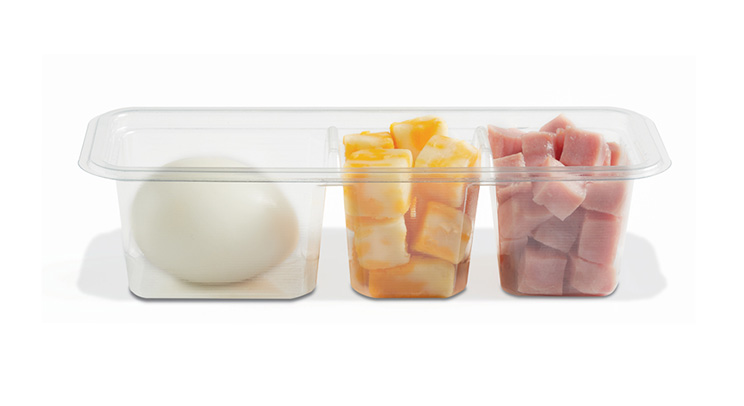 Placon's Fresh 'n Clear SnackCube line offers convenient, on-the-go, portion control in a sustainable package.
Better packaging means a better experience with Placon's latest addition to its popular Fresh 'n Clear stock food packaging line. Available in three ultra-clear, convenient base configurations- a 2-compartment, 3-compartment and 3-compartment that fits a hard-boiled egg- and an optional inside fit lid.
Meeting the growing demand for on-the-go, portion control packaging, the new SnackCube products offer even more merchandising opportunities for convenient, grab-and-go snacking and freshly prepared snack options. Perfect for salty, sweet or high protein snack foods including dry packed foods such as nuts, cheese, snack mixes and candy, as well as freshly prepared foods including fruit, vegetables and offers additional accessibility and portability.
Available now, SnackCube products are made with EcoStar® recycled PET material from curbside plastic bottles, SnackCubes are reusable and recyclable. So consumers can feel good about the package their snacks come in and can recycle it when they are finished.
"At Placon, our food packaging solutions attract customers with quality designs in a variety of different sizes. The new SnackCubes continues to help meet the growing consumer trends for snacking while offering additional merchandising options," said Jeff Lucash, Placon's Vice President, Sales.
For more information, call us at 800.541.1535 or visit www.placon.com.
ABOUT PLACON
For 55 years, Placon has been a leading designer and manufacturer of custom and stock plastic packaging for the food, medical, and retail markets. Placon has manufacturing operations in Madison, WI; Elkhart, IN; Plymouth, MN; and West Springfield, MA, and currently ranked in Plastics News 2020 Thermoformers Ranking Top 20. Placon delivers packaging breakthroughs that inspire better engagement between people and products with industry leading innovation and award-winning packaging designs. For more information, visit www.placon.com.