PLACON NEWS
Upcoming Events
Feb 6, 2024
May 14, 2024
Jun 9, 2024
Oct 8, 2024
View all Events
Placon Exhibited at MD&M West in February
March 16, 2018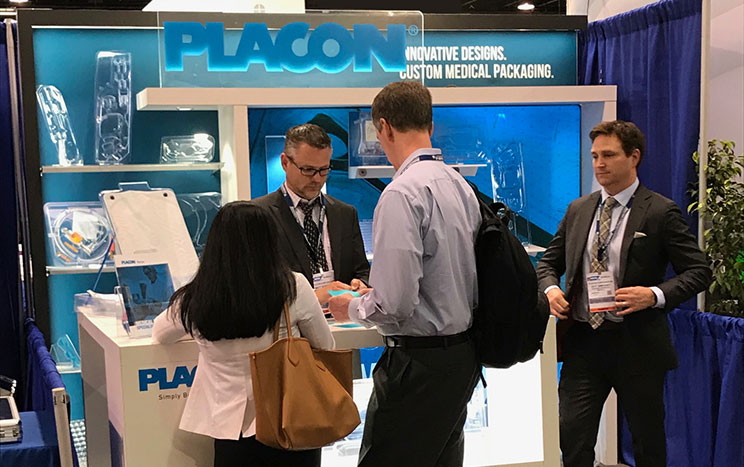 Leading medical device packaging company exhibited at nation's largest medtech conference
Placon, a leading medical device packaging company, exhibited at the MD&M West tradeshow last month. The nation's largest medtech conference took place February 6-8 at the Anaheim Convention Center in Anaheim, CA.
The show connects over 20,000 professionals in the medical design, manufacturing and supplier industries. The expo floor featured free educational sessions, demonstrations and opportunities to test drive new technologies and the latest innovations in the medical industry.
With experience manufacturing single and multiple use packaging systems for class I, II, and III medical devices, Placon helps pharmaceutical and medical device OEMs navigate through complex packaging design and validation processes getting new products to market quickly and cost-effectively. Placon partners with customers to leverage single sourcing capabilities for turnkey solutions in the design, development and production of a wide range of sterile and non-sterile, medical and pharmaceutical packaging systems.
"Placon's medical packaging specialists are dedicated to producing custom protective medical packaging systems. Exhibiting our innovative designs provides us the opportunity to showcase our commitment to the highest quality standards in medical packaging," said John MacDougall, Medical Sales Manager.
Placon will exhibit at the MD&M Minneapolis tradeshow in October 2018.
For more information, call us at 800.541.1535 or visit https://medical.placon.com.
ABOUT PLACON
For 55 years, Placon has been a leading designer and manufacturer of custom and stock plastic packaging for the food, medical, and retail markets. Placon has manufacturing operations in Madison, WI; Elkhart, IN; Plymouth, MN; and West Springfield, MA, and currently ranked in Plastics News 2020 Thermoformers Ranking Top 20. Placon delivers packaging breakthroughs that inspire better engagement between people and products with industry leading innovation and award-winning packaging designs. For more information, visit www.placon.com.