PLACON NEWS
Upcoming Events
Feb 6, 2024
May 14, 2024
Jun 9, 2024
Oct 8, 2024
View all Events
Placon Goes Back-To-Back with 2020 Medical Packaging AmeriStar Award
October 30, 2020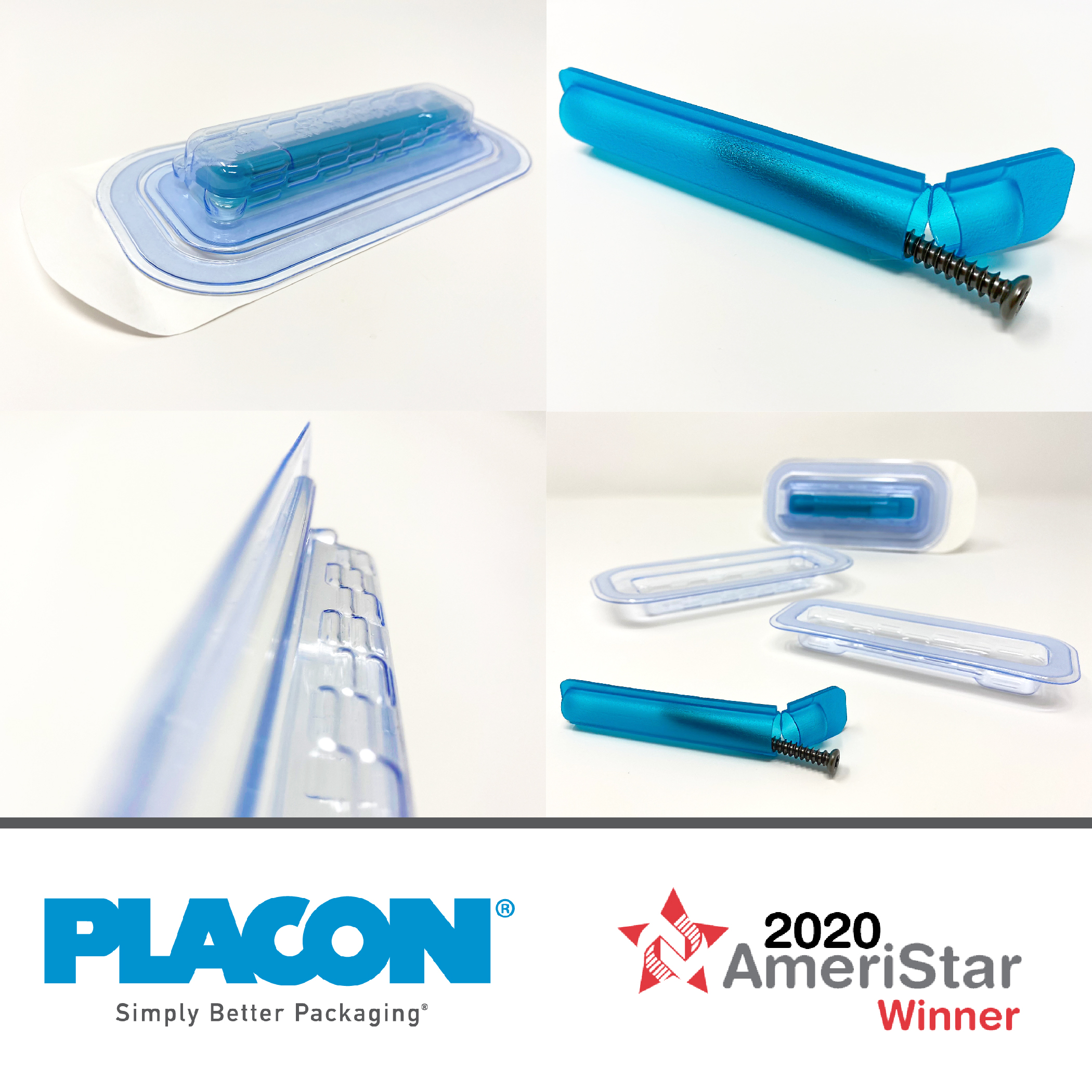 On October 27th, 2020 Placon was recognized by the Institute of Packaging Professionals (IoPP) as the winning package design in the AmeriStar award Medical Device Packaging category. This is the second consecutive year that Placon has been awarded as the winning packaging design for the AmeriStar Medical Device category. The AmeriStar awards are an annual award given to the best packaging design across more than 15 different packaging and design categories.
The winning package design was developed for a global medical device company and leader in medical new product development. This custom medical package was designed to be cross-functional and can be used across more than 1,000 unique surgical implant/instrument products. The custom medical tube packaging is made using our BargerGard® polyurethane flexible material and is sterilized for medical grade usage. The package was designed to allow medical personnel the ability to handle and transfer the device without product contact until ready to use in the operating room or medical setting. Each tube has specifically integrated accents that are used to allow for a secure grip while wearing medical gloves to ensure surgeons can handle the tube prior to usage. With a sterile sealed inner and outer tray to hold the sterilized tube this is not just a package, but an entire packaging solution that was designed for our medical customer.
"Working with our customers to develop custom medical packaging solutions is what we do best and what sets us apart from other medical packaging companies," said John MacDougall, Medical Sales Manager. "The 2020 AmeriStar award exemplifies the great work that went into this project from everyone involved on the customer team and Placon team," said MacDougall.
For more information, call us at 800.541.1535 or visit www.placon.com.
ABOUT PLACON
For 55 years, Placon has been a leading designer and manufacturer of custom and stock plastic packaging for the food, medical, and retail markets. Placon has manufacturing operations in Madison, WI; Elkhart, IN; Plymouth, MN; and West Springfield, MA, and currently ranked in Plastics News 2020 Thermoformers Ranking Top 20. Placon delivers packaging breakthroughs that inspire better engagement between people and products with industry leading innovation and award-winning packaging designs. For more information, visit www.placon.com.