Placon Launches New EcoStar Plastics Website
January 27, 2015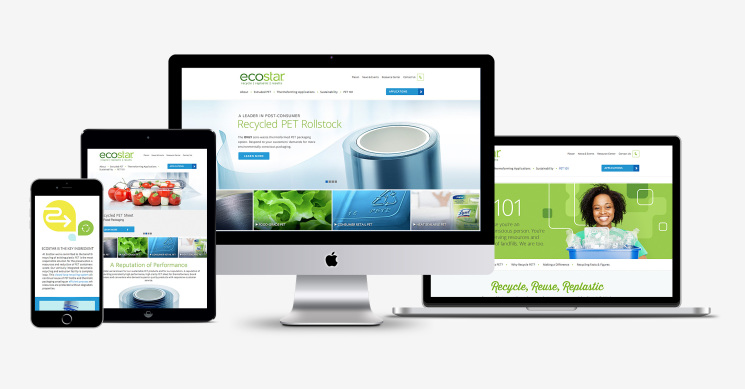 MADISON, WI – Placon, a North American leader in the design and manufacture of rigid plastic packaging for the food, retail and medical device markets is pleased to announce the launch of its new, responsive EcoStar plastics website. New to the site is a PET 101 section that provides fun yet educational information geared towards the benefits of thermoforming post-consumer polyethylene terepthalate (PET) for packaging and recycling it for reuse.
The EcoStar facility reclaims, recycles and extrudes post-consumer recycled (PCR) rollstock from curbside collected PET bottles and thermoforms for new thermoforming applications. The site showcases the company's 100% recyclable range of PET rollstock options, including up to 100% high-clarity PCR PET for thermoform food, retail and non-sterile medical trays, clamshells and blister applications. EcoStar's "closed loop" sustainability message is woven throughout the site conveying the company's clear stance on recycling PET for continuous use and reuse in order to reduce PET packaging waste to landfills.
"The eco-minded consumer is interested in what their packaging is made out of, and more importantly, whether it is sustainable and recyclable, "states Laura Stewart, VP of sales and marketing. "The new site is intended to help educate brand owners and their customers on the importance of using and recycling post-consumer PET thermoformed packaging."
Continues Stewart, "We wanted to build a site that our customers can use to inform and educate their end users on why post-consumer recycled PET is a responsible material choice for packaging as well as the value in recycling the packaging for continuous reuse."
ABOUT ECOSTAR
EcoStar is a North American recycler and extruder of high-clarity, thin-gauge rigid PET rollstock for thermoformed food, retail and non-sterile medical packaging applications. One of the largest in the Midwest, the WI-based EcoStar facility reclaims and recycles over 1 billion curbside collected plastic bottles and thermoforms a year, extruding them into ultra clear, sustainable PET rollstock that is 100% recyclable. For more information, visit www.ecostarplastics.com.
ABOUT PLACON
For 55 years, Placon has been a leading designer and manufacturer of custom and stock plastic packaging for the food, medical, and retail markets. Placon has manufacturing operations in Madison, WI; Elkhart, IN; Plymouth, MN; and West Springfield, MA, and currently ranked in Plastics News 2020 Thermoformers Ranking Top 20. Placon delivers packaging breakthroughs that inspire better engagement between people and products with industry leading innovation and award-winning packaging designs. For more information, visit www.placon.com.