PLACON NEWS
Upcoming Events
Feb 6, 2024
May 14, 2024
Jun 9, 2024
Oct 8, 2024
View all Events
Placon Partners with Madison Mallards to Bring Awareness to Recycling
May 24, 2019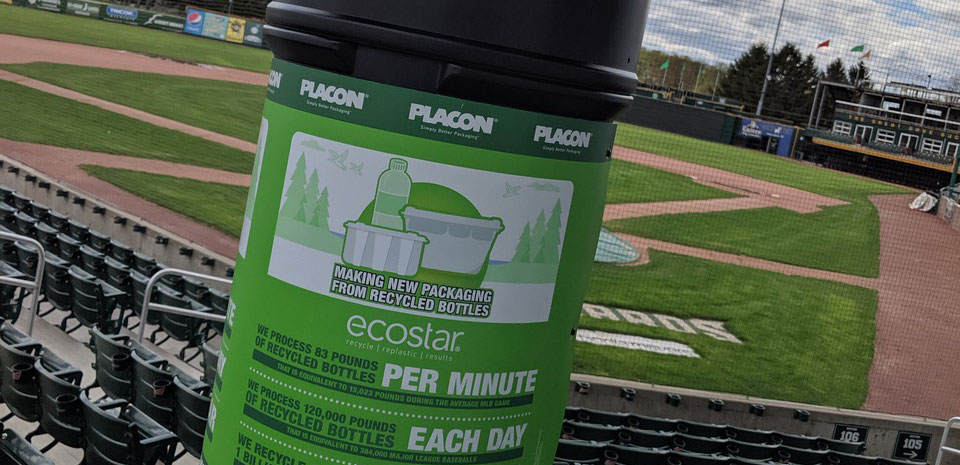 Placon has partnered with the Madison Mallards baseball club to raise awareness about recycling PET bottles and thermoforms. This summer when you visit the Duck Pond, where the Mallards team plays their homes games, you will see multiple recycling bottle areas with the Placon logo on them. Each bottle was designed to showcase the EcoStar story that Placon introduced back in 2011, right here in Madison, WI.
Placon introduce the EcoStar facility in 2011 as a way to create a sustainable plastic material solution. Placon is able to bring in curbside-collected PET bottles and thermoforms, sort, wash and process them back into a food-grade, reusable PET resin that is given a second life and made into new food or retail packaging that is used by customers across North America. The EcoStar facility is able to process and recycle 83 pounds of PET bottles and thermoforms per minute, per day. Placon is helping to divert over 120,000 pounds of PET containers from the landfills every day and recycling over 1 billion containers each year, that is enough to wrap around the world 4 times.
Placon is proud to partner with the Madison Mallards baseball club to promote a positive message and help visitors understand the importance of recycling. "Most people have no idea that we are recycling this many bottles right here in Madison, WI. We wanted to find a partner that supports the local community and believes in making it a better place," said Derek Skogen, Senior Product Manager. When you visit the Duck Pond this summer, look around the park for the recycling bottle areas and the Placon messaging on each one as you recycle your bottles and containers.
For more information, call us at 800.541.1535 or visit https://www.placon.com/.
ABOUT PLACON
For 55 years, Placon has been a leading designer and manufacturer of custom and stock plastic packaging for the food, medical, and retail markets. Placon has manufacturing operations in Madison, WI; Elkhart, IN; Plymouth, MN; and West Springfield, MA, and currently ranked in Plastics News 2020 Thermoformers Ranking Top 20. Placon delivers packaging breakthroughs that inspire better engagement between people and products with industry leading innovation and award-winning packaging designs. For more information, visit www.placon.com.