Placon Wins Two Gold SPE Awards
November 2, 2018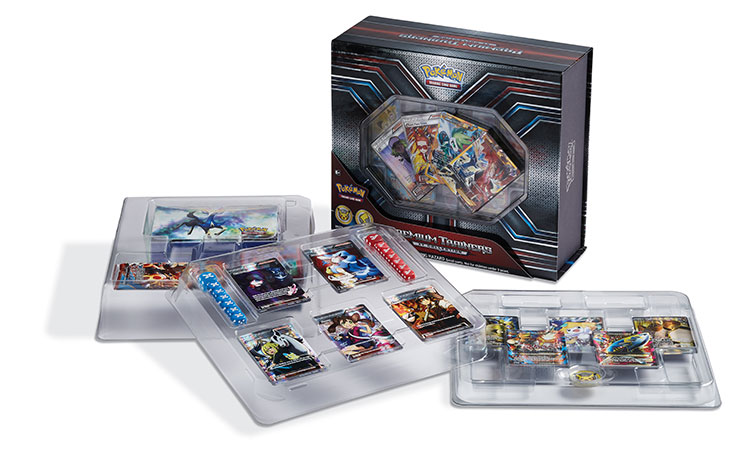 Placon takes home two gold awards at this year's Society of Plastics Engineers parts competition.
Placon was awarded two Gold Awards at the annual parts competition during the Society of Plastics Engineers' Thermoforming Conference September 24-26th in Dallas, TX. Placon won for its innovative package design for pc nametag® Oneway® Flex™ name tag organizer and best consumer package for Pokémon™ TCG: Premium Trainers XY Collection trays.
The first entry, a thin-gauge, thermoformed badge organizer, provides a distinctive design innovation in that the die cut shape allows for multiple tray configurations to house several name tag shape variations. The unique perforation allows the tray to fold into a square and the snap fit closure locks securely to hold the square configuration in place for safe storage and easy transit in a shipper box with carrying handle. The retention card pockets hold the name badges snugly in the slot so no badge will slide out of place. The design resulted in a smaller package size and overall dimensional weight which decreased shipping cost.
The second entry, a trading card game package includes a rigid setup box with printed litho foil paper wrap, with three thermoformed trays inside. The versatile packaging configuration is intended for retail, but also converts into a storage device for players after the content is unpacked. The plastic clamshell in the cover allows for high level promo cards to be displayed in the front of the box for retail presentation, and also allows consumers to change the cards to include their favorite cards to display. The tray design reduced material thickness, allowing for multiple trays to be stacked together in one box. The result was an overall cost savings for Pokémon which was passed along to the consumer.
Both packages were made using Placon's Ecostar® post-consumer recycled PET roll stock for ultra-clarity and high quality parts. Using bottles and thermoforms diverted from landfills, Placon recycles approximately 1 billion post-consumer PET recyclables a year which is enough to wrap around the Earth four times. We call that doing our part to save the planet.
Pokemon™ is a registered trademark of The Pokémon Company
ABOUT PLACON
For 55 years, Placon has been a leading designer and manufacturer of custom and stock plastic packaging for the food, medical, and retail markets. Placon has manufacturing operations in Madison, WI; Elkhart, IN; Plymouth, MN; and West Springfield, MA, and currently ranked in Plastics News 2020 Thermoformers Ranking Top 20. Placon delivers packaging breakthroughs that inspire better engagement between people and products with industry leading innovation and award-winning packaging designs. For more information, visit www.placon.com.