Placon's Fresh 'n Clear GoCube™ Goes Big!
February 1, 2019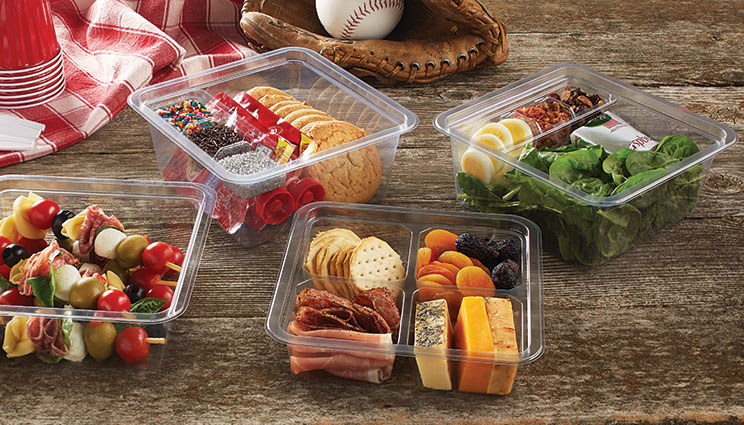 Placon introduces an addition to the Fresh 'n Clear GoCubes line. Introducing a larger 8" x 8" footprint to our popular GoCubes line. GoCubes bring style, versatility and best of all, sustainability to a classic square container. Use GoCubes bases alone or add a universal insert for maximum appetite appeal and extended shelf life with our inside fit and overcap lid options. The new GoCubes will provide you better portion control and keep your ingredients fresher for longer.
Meeting the growing demand for 2-4 entrée sized fresh prepared meals, the new larger GoCubes offer more versatility and merchandising options for convenient, grab-and-go, freshly prepared food options. The GoCube is perfect for freshly prepared foods, meal kits, and bulk food options including fruit, vegetables and salads.
Available now in four base sizes from 36 to 80 ounces, the new GoCubes offers two lid options- an inside fit lid and an overcap lid. The versatile inside fit lid offers a secure seal, easy open tabs, and crystal clear anti-fog technology. Three insert trays with compartment options, can be used to mix and match to create the perfect packaging combination for your products. Each piece of the new GoCubes product line are made with Placon's EcoStar recycled post-consumer PET material made from curbside collected bottles and thermoforms. Placon's EcoStar material is 100% recyclable as we continue to help reduce the overall plastic waste in landfills.
"At Placon, our food packaging solutions attract customers with quality designs in a variety of different sizes. The new GoCube bases, inserts and lids continue to help meet the growing consumer trends while offering additional merchandising options," said Ben Brummerhop, Placon's Stock Food Sales Manager.
For more information, call us at 800.541.1535 or visit www.placon.com.
ABOUT PLACON
For 55 years, Placon has been a leading designer and manufacturer of custom and stock plastic packaging for the food, medical, and retail markets. Placon has manufacturing operations in Madison, WI; Elkhart, IN; Plymouth, MN; and West Springfield, MA, and currently ranked in Plastics News 2020 Thermoformers Ranking Top 20. Placon delivers packaging breakthroughs that inspire better engagement between people and products with industry leading innovation and award-winning packaging designs. For more information, visit www.placon.com.