Unique, Tamper-Evident Plastic Clamshell Picks up a Prestigious IOPP AmeriStar Packaging Design Award for Rigid Plastics Thermoformer Placon
May 28, 2014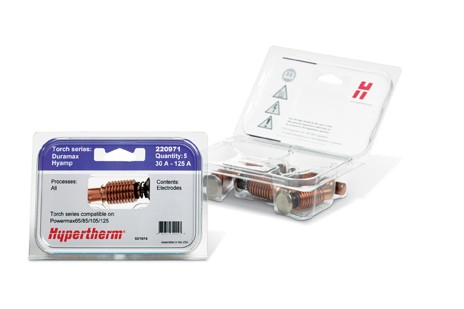 Top Rigid Plastic Package Design IOPP Award Winner
Earning three Ameristar packaging awards in two years, Placon, an innovative designer and thermoformer of custom and stock packaging for the retail, medical and food markets, is continuing to earn high marks for its creative, economical and safe packaging designs.
With a 20% overall reduction in the size of its footprint, the Hypertherm consumables' packaging, previously manufactured in PVC material, is now designed with Placon's EcoStar® brand of post-consumer recycled PET rollstock. The 100% recyclable packaging now contains a minimum of 50%, up to 100%, post-consumer content from curbside-collected PET bottles and thermoforms.
Tamper-Evident Packaging Design
Collaborating closely with Hypertherm, a leading US-based designer and manufacturer of advanced plasma metal cutting systems, Placon designed creative, overt methods of tamper detection into the packaging, allowing suppliers and consumers to authenticate a genuine Hypertherm package from a counterfeit product.
The clear plastic clamshell has a secure 360 degree seal with a Placon patented retaining snap feature on the inside of the lid, holding the graphic card securely in place. When the clamshell is filled, the hang-hole area is ultrasonically welded, affixing the lid to a perforated area on the base of the thermoform. Once opened, the perforated area is broken off of the base, permanently affixing itself to the interior of the lid, "trapping" the graphic card.
The unique tamper-evident design allows consumers to visually see the "broken" hang-hole tab area alerting them that the package has been tampered with. The feature also makes it difficult for counterfeiters to not only repackage the clamshell but to repurpose the graphic card as well. Attempts to slide the graphic card out of a package with a broken seal will result in ripping the card, rendering it unusable.
"Many companies, like Hypertherm face a major issue in counterfeiting, an ongoing concern for companies and their brands," states Jeff Baillies, senior concept designer, Placon. "We paid critical attention to the packaging design in order to help customers identify genuine Hypertherm packaging while also protecting the package against duplication by making it more technically and financially challenging to replicate by counterfeiters."
A Smart, Intentional Thermoform Design
Hypertherm's over 220 consumable part numbers securely fit into 4 unique designs, from 6, reducing the number of SKUs the company needs to inventory. Packaging footprints were made to be more universal, only varying in terms of the number of cavities and total depth, making it easy to stack across SKUs. Internal cavities of the 4 unique SKUs were designed to create a consistent merchandising experience, with the company's Marketing team ensuring synergies in its consumables' brand look worldwide.
ABOUT PLACON
For 55 years, Placon has been a leading designer and manufacturer of custom and stock plastic packaging for the food, medical, and retail markets. Placon has manufacturing operations in Madison, WI; Elkhart, IN; Plymouth, MN; and West Springfield, MA, and currently ranked in Plastics News 2020 Thermoformers Ranking Top 20. Placon delivers packaging breakthroughs that inspire better engagement between people and products with industry leading innovation and award-winning packaging designs. For more information, visit www.placon.com.